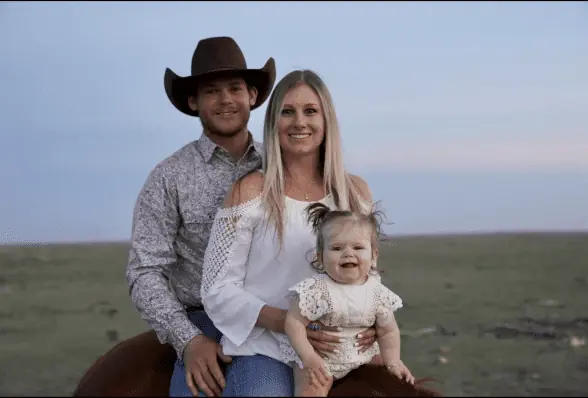 Short of the love between a parent and their child, there may not be another love as pure and wonderful as the love between a person and their dog. Nurturing, attentive, and always up for playtime, dogs are a quintessential part of country life, and we can't picture our lives without at least one. Originally from Colorado and now living in the rural Panhandle, we are grateful we get to share that love with you by raising quality well-bred working stock dogs and family pets.  
I have worked for a Veterinary clinic for 7 years where I continue to do what I love, taking care of animals, and growing my knowledge in animal health and reproduction that I take back home to provide the best care for our dogs and your future companion. I am a believer that the best therapist has fur and four legs!  
Living out in the country our dogs have lots of space to enjoy the land. Each litter of puppies born have a mix of personalities, some are suited better for being pets to a loving family, while others show great potential and natural drive to want to become working dogs.  
Our puppies are socialized and loved on by our family! Whether you are looking for a family dog, a gritty working dog or hunting dog with drive and agility we truly believe our Texas Heelers "Can Work Anywhere For You." Let us know what you are looking for and we can help pair you with the perfect puppy.  
We love our dogs and are thankful for all they bring to our family and one day to yours! 
"Nobody can fully understand the meaning of love unless he's owned a dog." Gene Hill 
The Griggs Family 
Texas Heelers are a crossbreed between an Australian Shepherd (Aussie) and an Australian Cattle Dog (Heeler) They are a unique crossbreed originally intended as "working dogs" they have become well known for their ability to adapt to most environments and situations. They are used all over the country for showing, hunting, working and as family pets. They are loyal incredibly intelligent and trainable with an eagerness to please, they fit well into most situations. Texas Heelers come in all sizes from large standard to small mini, their coat colors vary greatly with red, tri and merle to everything in between their coat lengths can be longer favoring the Aussie while others are shorter favoring the Heeler, their eye colors range as well from dark to blue.
Australian Shepherds
(Aussies)
Aussies are a herding dog of choice for many cowboys as they are hardworking and exhibit incredible intelligence, endurance and natural dive with their herding ability, they are very loyal and love to please they make great pets for the active family and are very trainable. They are medium-sized to small (if you are talking about a mini). Aussie coat colors vary from being red and tri to merle (a mottled pattern with contrasting shades of blue or red) with some of them having blue eyes.
Australian Cattle Dogs
(Heelers)
Heelers are loyal dogs who take their job of protecting their family very seriously and can make great family dogs, with a hardworking and a "no back down" attitude they make excellent partners when help is needed with the cattle, they enjoy having a job to do. They stand between 17-20in tall (unless a mini) with coat colors that can either be red or blue with spots and speckling variation, some have dark masks around their eyes, with most of them having darker color eyes.
Pricing and Purchasing Information
Australian Shepherds
(Aussies)
Standard:
TBA
Mini Tri:
$1000
Mini Merle:
$1500
Full Registration:
+$500
Texas Heelers
Standard Tri: 
$1000
Standard Merle:
$1200
Mini Tri:
$1000
Mini Merle:
$1200
Australian Cattle Dogs
(Heelers)
Males:
$1200

Females:
$1500
AKC Full Registration:
+$1000
Mini:
$1000
Puppy deposits are: $200
This is a non-refundable amount. We reserve the right to refuse sale to anyone
Shipping and Delivery Information

Pickup
Top of Texas Store
200 N 2nd Street
Texline,Tx 79087
Delivery
We can meet up in Dallas, TX or Denver, CO for $200.00 this is subject to availability and dates.
Flying
**Due to COVID prices and availability are changing. Please contact for the latest information**
Ground Transport
**Due to COVID prices and availability are changing. Please contact for the latest information**